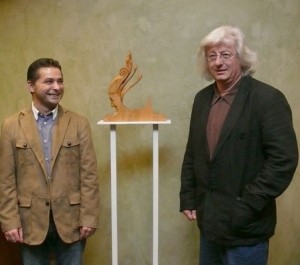 The winner of the co-award is proposed by the actual beholder of the AEGON award of art. This year Péter Esterházy chose a dulcimer artist, Lukács Miklós, who could received the award in Katona József Theatre.
This acknowledgment comes with a major sum and a statuette. Even this year I was requested to make it.
Mr. Esterházy's choice gave me special honor as I really adore the art of Mr. Lukács. The way he plays the dulcimer was an inspiration for me, so the statuette closely reflects his art and the instrument themselves.
Mr. Lukács is a well-known musician in Hungary and even abroad for his artistic merit. He has played with world famous jazz musicians like Uri Caine, Steve Colman, Archie Shepp, Chico Freeman, Gerard Presencer, Herbie Mann, Tony Lakatos, Roby Lakatos, Chris Potter.
He has given concerts with several highly acknowledged European bands like the Budapest Festival Band, Conceertante di Chicago, Philharmonic from Warsaw, Hamburg and Torino. He played in Covent Garden, the Royal Albert Hall, the Concertgebouw in Amsterdam, the Barbican Center, at the Yehudi Menuhin Festival (Gstaad, Switzerland) and with the Suisse Romande Band in 2009. He also played with the BBC and the ORF Symphonic.
(photo:László Dobó)