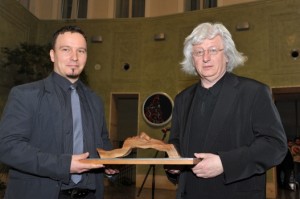 AEGON Art Award and AEGON Art co-award were established by AEGON Magyarország Zrt in 2006 with the purpose of acknowledging outstanding artistic achievements. AEGON Art Award is a literary award given, based on the decision of a professional jury, to a contemporary Hungarian writer for his/her outstanding literary work published in the previous year.
AEGON Magyarország Zrt. established two awards in 2006 according to the concept of Erzsébet Eszéki, the AEGON Art Award and the AEGON Art Co-Award. The latter is for an artist in a different art chosen by the winner of AEGON Art Award.
The winners receive a significant amount and a sculpture further increasing the value of this acknowledgment.
In 2007 I have won the tender of AEGON Magyarország Zrt. which was calling for designing and making the award. Our co-operation was successful. I have been call upon to make the sculpture for several years, which is given as an award. In 2008 I have received an art scholarship  from AEGON Magyarország Zrt. as an appreciation for my work.
In 2011 it was my honour to make the award for the winners, again.
In 2011 the winner of the AEGON Art Award was Esterházy Péter for his novel Esti.